About Us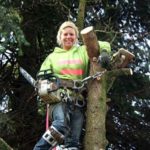 I started out scared to death but failing was not an option for me. I was mostly self-taught by trial and error and patience, and it was a hard start for me in this industry while having to jump in head first to support my family.
I have come a long way with much support, education and determination. I am as loyal to my customers as I am to the accomplishment of my goal to provide a future for my kids.
I have 10 years of hands-on experience within the tree service industry. With a long history in the tree service business and a hard work ethic I am here to help you with all your tree service needs!
Beth Stock, owner